First Aid training could be one of the most valuable training courses you ever undertake.
By learning and understanding First Aid, you gain the invaluable ability to assist those in need.
There can be a tendency to get into the mindset of 'it won't happen in my workplace, so there's nothing to worry about'. Herein lies the importance of the Health and Safety (First Aid) Regulations 1981. The Regulations require employers to provide adequate and appropriate equipment, facilities and personnel to enable first aid to be administered to employees who suffer from injury or become ill at work.
As an employer, with our first aid courses you are provided with the assurance and confidence that you have an adequately trained first aider who can be counted upon, in the event of an emergency.
The presence of a qualified first aider amongst your ranks can help to save lives should the 'unthinkable' happen. First aid training can help to give employees confidence to deal with emergencies/injuries in the workplace without being overwhelmed, helping them to remain calm consequently resulting in a safer working environment.
We offer courses such as the 'QA Level 3 Award in First Aid at Work', which is specifically designed for individuals who wish to act as a first aider in their workplace, alongside the 'QA Level 3 Award in Emergency First Aid at Work Award', which is specifically designed for individuals who wish to act as an emergency first aider in their workplace.
Our trainers are highly qualified and will use their wealth of experience to assist you in gaining the requisite knowledge and skills.
To learn more about our first aid courses, simply contact us or fill out our enquiry form.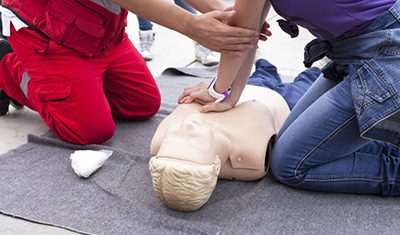 Any questions?
We're here to help. Ask us a question and one of our experts will provide you with a detailed reply.
Thank you for your download request. Simply fill in this form and download our PDF brochure.